---
---
The following is a personal opinion of Serge and he hopes that people around will not kill him for it. *breathes in*
basically, this years event in an overall sense is good. The crowd wasn't as big as last year, but this time and out of all the other comicfiesta-like events, the crowd was participating. Yes they were participating. Because of that, Serge would like to congratulate Dai on making the cosplay event a somewhat successful event.
Read more
---
Date: 16 & 17 December 2006
Time:Saturday (11:00am ~7:00pm) & Sunday (3:00pm ~ 8:00pm)
Admission: Perorder is RM12 for 2 days, Click here to Preorder Details
On the spot RM15 for 2 days, RM8 for 1 day.
Venue : Sri Sedaya School Hall, Subang Jaya,
Sekolah Sri Sedaya, Lot 4891, Jalan SS 13/4,
47500 Subang Jaya, Selangor Darul Ehsan.
For more info on Sri Sedaya, visit Sri Sedaya Webpage: http://www.srisedaya.edu.my/
Read more
---
It's december and in the christian calender, it is called advent. About a few thousand years ago, by the readings of the holy scriptures, it was said a savior will come to rescue the people of god from their sin. This person today is known as Jesus Christ and before he came, people prophecies about his coming. And that is advent in the context of the christian calender.
Read more
---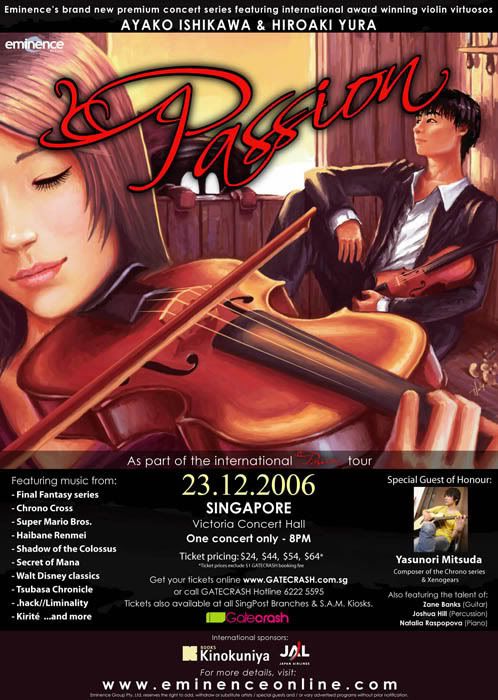 For the love of all that is good……. let Serge be there on the 23rd of December
Venue : Victoria Concert Hall
Time : 8pm
Date : 23rd December
Price $24,44,54,64
Read more
---